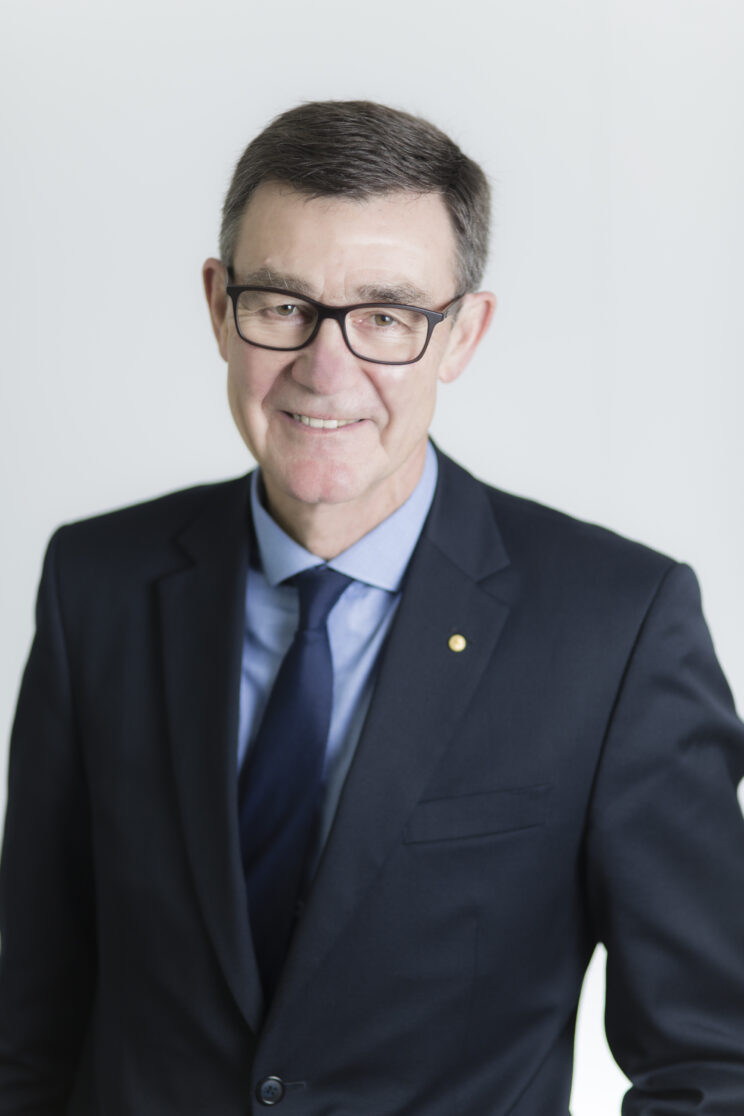 ANZSEBP Patron: Air Chief Marshal Sir Angus Houston AK, AFC (Ret'd)
Air Chief Marshal Sir Angus Houston AK, AFC (Ret'd) was awarded the Knight of the Order of Australia in January 2015 for extraordinary and pre-eminent achievement and merit in service to Australia, through distinguished service in the Australian Defence Force, continued commitment to serve the nation in leadership roles, particularly the national responses to the MH370 and MH17 disasters, and in a variety of roles in the community.
In August 2020 Sir Angus was appointed as Chair of the Murray Darling Basin Authority. Sir Angus is also a Senior Counselor for The Cohen Group, an international business advisory firm; Chancellor for the University of the Sunshine Coast; Chair of the Defence South Australia Advisory Board; Chair of the Victorian Police Corporate Advisory Group; Chair of the University of NSW Canberra Advisory Board; Chair of the Canberra Symphony Orchestra and Chair of the Supashock Advanced Suspension Advisory Committee.
He is a Board Member of the Lowy Institute for International Policy, the Sunshine Coast Mind and Neuroscience Thompson Institute; the Australian Cancer Research Foundation, GreaterGood Canberra and the Victorian Police Executive Command. He is also a visiting fellow of the Australian National University National Security College
In addition to his many board roles, he is the Ambassador/Patron of numerous charitable organisations including several mental health organisations.
In July 2014, Sir Angus was appointed as the Prime Minister's Special Envoy to lead Australia's efforts to help recover, identify and repatriate Australians killed in the Malaysia Airlines flight MH17 disaster. Sir Angus also led the Joint Agency Coordination Centre coordinating the Australian Government's support for the search into missing Malaysia Airlines flight MH370 in 2014.
In 2012 Sir Angus led the Expert Panel on Asylum Seekers.
Sir Angus was Chair of the Anzac Centenary Advisory Board from July 2011 until March 2014. He was also Chair of Air Services Australia from 2012-2018.
In July 2011, Sir Angus retired as Chief of the Australian Defence Force after 41 years of service in the military.
In 2011, he was named the Australian Father of the Year and in 2012, the ACT Australian of the Year.
Sir Angus was awarded the Degree of Doctor of the University of South Australia in August 2017, Degree of Doctor of Laws honoris causa from ANU in December 2016, Degree of Doctor of the University, honoris causa from UNSW in November 2015, and Degree of Doctor of the University from Griffith University in December 2013.
Sir Angus is married to Liz and they have three sons and three grandchildren.