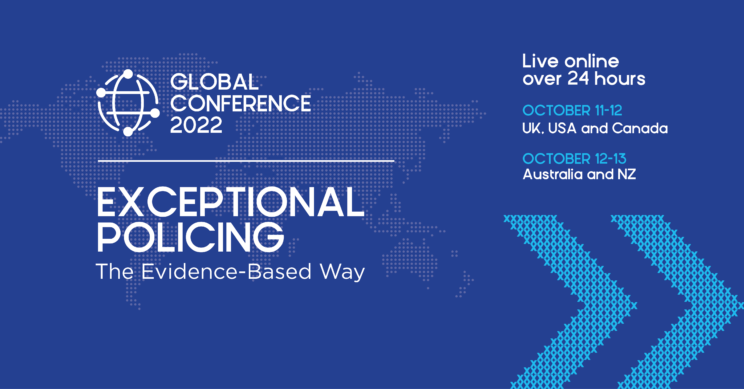 The inaugural Conference of the Global Collaboration of Evidence Based Policing takes to the virtual stage on Oct 11 – 12 (in UK, US and Canada) and Oct 12 – 13 (in Australia and NZ).  This is a fully online live 24 hours of Exceptional Policing the Evidence Based Way – operationally relevant EBP stories and studies coming live, via your desk or phone, wherever you are.
Evidence-Based Policing (EBP) is growing globally, ensuring that policing strategy, operations, and tactics are based on what works, according to evidence and research. Rather than being guided by assumptions, tradition, convention, or subjective impressions, EBP combines the existing skills, knowledge and experience of police with research, crime science, problem-solving and testing.
This inaugural global conference brings together world-leading criminologists, academic thinkers and police professionals to look at the role that evidence, its legitimacy, and our policing leadership have in everyday policing – shaping "exceptional" policing, the evidence-based way.
The conference will be opened and closed by Police Commissioners, and there are multiple sessions with direct benefit to frontline practitioners. Amongst other things, topics include:
Single vs. double-crewing
How vital is it if we get there fast?
Police legitimacy
How to spot the bad cops and leave the good ones out of it
Biased Policing – Nothing about me without me
Use of force
Focused deterrence
Hotspots policing – findings from the biggest piece of research
Can we over-police? What's the right amount of policing?
Could we handle domestic abuse calls via video link
The ANZSEBP pioneered this concept of turning their annual, in-person conference into an on-line broadcast in 2021 during COVID restrictions, with such great outcomes that they are now teaming up with the UK to host this year's event together and open it up to EBP societies across the world to make this a global event.
Broadcasting will start in New Zealand in the morning of 12th October 2022 at 8am, which will be 8pm on October 11th in the UK, 3pm on the 11th in New York and 12noon in Los Angeles. 
The broadcast runs for a continuous 24hrs from then – coming live, fully interactive and to any device, you choose to use.  Teams on night or day shifts or people on leave, in study or at work can connect and communicate with the speakers and their fellow conference attendees throughout the conference.   Over 40 speakers from throughout the world come together to present their research, results, and practice, including Assistant Commissioner Deborah Platz (Queensland Police), Assistant Commissioner Bruce O'Brien (NZ Police), Dr David Weisburd (George Mason University, USA & The Hebrew University of Jerusalem, Israel), Prof Larry Sherman (University of Cambridge, UK), Detective Supt. Greg Williams (NZ Police), Prof Lorraine Mazerolle (University of Queensland, Australia), Rachel Tuffin (College of Policing, UK), Prof Tom Kirchmaier (London School of Economics, UK), Dr Barak Ariel (University of Cambridge, UK & The Hebrew University of Jerusalem, Israel), Staff Sergeant Natalie Hiltz (Peel Police, Canada) and other distinguished speakers– the programme is live now at www.globalebpconference.com.
Police, intelligence operators, academics and students working or studying in the fields of policing, criminology, or law enforcement, will be able to tune in live, wherever they are, to participate in this global community.
We look forward to seeing you there.
The 2021 ANZSEBP Conference Organising Committee
For more information visit globalebpconference.com